February 5, 2010
Bailiffs disciplined as woman denies thefts
By KATHRYN MARCHOCKI
New Hampshire Union Leader Staff


GOFFSTOWN - She carried a large shopping bag, wore a blonde wig and told anyone who would listen she was from Paris, customers at the Dunkin' Donuts recalled yesterday.

No one really knew what to believe or expect from Estelle C. St. Pierre, 75 -- or was it Chantel Fournier? -- a frequent visitor of the Mast Road coffee shop where she sometimes offered patrons boxes of Van Otis chocolates and nuts that she pulled from her dark green Pontiac Bonneville sedan, customers said.

Was she from Paris? Or was she New Hampshire born and bred as she wrote in her criminal file in Goffstown District Court?

"There was something wrong with her. You could pick up on that right away. She would tell one lie after another," Dunkin' Donuts customer Carol Caples said.

Before dropping by the coffee shop, St. Pierre later told police she stopped at nearby Jacques Flower Shop. Her car still running, St. Pierre said she got out and helped herself to wreaths on two occasions between Thanksgiving and Christmas, court documents allege.

Hillsborough County investigators already were probing the sale of wreaths to Hillsborough County Superior Court bailiffs by an elderly woman matching St. Pierre's description. The six wreaths bore Jacques Flower Shop price tags and were sold inside the courthouse to court security officers over two to three days, the affidavit alleges. All six wreaths were returned to the flower shop.

Hillsborough County Sheriff James A. Hardy said an internal investigation into wreath sales is nearly complete and reveals disciplinary action will be taken against four to five court security officers, also known as bailiffs.

"Just selling the wreaths in the courthouse is inappropriate," Hardy said. "It was definitely an error in judgment on the part of the court officers."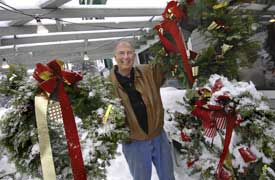 In December, Paul Godbout, manager of Jacques Flower
Shop, showed off three wreaths that were stolen from
the store. Investigators said six of the stolen wreaths
were sold to court bailiffs. (BOB LAPREE)
Penalties will range from reprimands to administrative leaves without pay, he said. Bailiffs are paid a daily stipend when called to work.

One officer has been on administrative leave without pay since the investigation began in early December, Hardy said. Another bailiff also placed on leave left the agency as a result of the courthouse relocating operations to Nashua in late December, he said.

Hardy said confidentiality rules bar him from releasing the names of the officers involved.

More wreaths found
When Goffstown police went to speak with St. Pierre on Dec. 10 about stolen wreaths being sold in the courthouse, they found three wreaths -- all bearing Jacques Flower Shop price tags -- hanging outside her apartment, the affidavit alleges.

St. Pierre introduced herself to the officers as Chantel Fournier, wished them a Merry Christmas and gave them boxes of Van Otis chocolates that she had in her car, the affidavit reveals.

St. Pierre eventually admitted she stole 14 wreaths worth about $400 from the flower shop and gave them to people at Elliot Hospital, Hillsborough County Superior Court, New Hampshire Orthopedic Surgery at 700 Lake Ave. as well as Dunkin' Donuts customers, she said.

She claimed she did not steal the Van Otis chocolates, but was given them through her work as a volunteer at the Elliot Hospital gift shop, the affidavit said. Investigators said they later confirmed the chocolates had been stolen, the affidavit said.

Pleaded not guilty
Now Dunkin' Donuts, Jacques Flower Shop along with the Elliot Hospital gift shop and Van Otis Chocolates, both in Manchester, are off-limits to St. Pierre as part of bail conditions set down after her Dec. 31 arrest on theft-related charges.

St. Pierre waived arraignment in Goffstown District Court yesterday on two counts of receiving stolen property. She entered not guilty pleas to the misdemeanor complaints. She remains free on $500 personal recognizance bail pending her April 6 trial. She identified herself as both Chantel Fournier and Estelle St. Pierre in court records and to those who knew her.

St. Pierre answered the door at her 20 College Road apartment, but wouldn't discuss her case. "I don't want to be in the newspaper," she told a reporter.

---
Copyrightę2010, Goffstown Residents Association. All Rights Reserved.