May 9, 2009

Town promotes 'Stay and Play' Thursdays
By STEPHEN BEALE



GOFFSTOWN

- Downtown Goffstown businesses have embraced a simple maxim: If you stay open later, they will come.

Last month marked the start of "Stay and Play" Thursdays, when more than a dozen retail shops and other businesses stay open well beyond their regular closing times of 5 or 6 or 8 p.m. Seven restaurants, most of which were already maintaining later evening hours, are also participating in the initiative organized by the Goffstown Main Street Program.

Robbie Grady, executive director of Goffstown Main Street, said organizers hope to spread the word to shoppers about the benefits of staying local. "Shopping locally makes sense," she said. "Not just in bad economic times, but all times."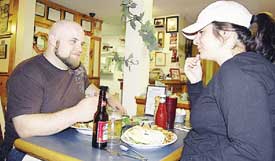 Matt and Jannine Pomerleau of Goffstown enjoy a late
dinner at Putnam's Waterview Restaurant on Thursday
night. (Stephen Beale photo)
Grady said shopping locally saves gas, promotes walking over driving, and is more convenient for those who cannot visit the village during the day because they work out of town.

That makes sense to Richard Dietsch, of Goffstown, who eats out every Thursday with his family at Putnam's Waterview Restaurant on Main Street.

"Everybody is working harder for less money now. We're working longer hours," Dietsch said. "Businesses need to accommodate the public. I think it's a great idea."

Dietsch, a window coverings salesman, makes a point of driving through the center of Goffstown as often as he can. "We believe in Goffstown," he said. "It's our town."

Stay and Play Thursdays give residents an alternative to malls, box stores, and chain restaurants, Grady said. "It's about keeping the unique character of your downtown alive," she said. "You're not going to find the same stuff you're going to find at a mall."

It's not hard to find variety in Goffstown Village, which is concentrated around Main Street. Behind the town hall is the Little Round House Gift Shop on Church Street, the only place in the United States that sells cobalt blue glass wares from Bristol, England. Across the parking lot, is the Apotheca Flower Shoppe and Tea Chest -- which is part coffee and pastry cafe, part flower shop, and part local art gallery.

Near the library, there's old-fashioned candy like bubble gum cigars, Mallo cups, and candy buttons at Jo-Marie's Country Shoppe on Elm Street.

This June, the Goffstown Main Street Program will start downtown tours on the last Thursday of each month. Each will focus on a different theme, from food and history, to local ghost stories in October.

In July and August, Thursday nights will be even busier after the Goffstown Main Street Program launches its annual series of family friendly concerts on the town common. Grady said the concerts will feature rock, folk and country music. The first concert is July 9.

Local businesses are counting on the warmer weather and community events to bring in more customers. "It's just beginning," said Jo-Marie Denoncourt, owner of Jo-Marie's Country Shoppe. "It's a little bit slow right now but hopefully it will pick up now that the weather is nice."

Some businesses are already meeting with early successes. One is the Happy Tomato Cafe on Main Street. Normally a breakfast and lunch eatery, the Happy Tomato has been open for dinner Thursday nights and already has a loyal following, Grady said.

Matt Pomerleau and wife Jannine, who are expecting their first child this month, live near Goffstown Village and say they spend as much time there as they can, especially for late night dinners. Pomerleau said his family will take advantage of Stay and Play Thursdays and related activities.

"We're late eaters, so of course that'd be great for us," Pomerleau said. "I think they've made some good steps. So if they continue, that will be good for us. We use the village as much as we can."
---