January 15, 2009

Truck Plows Through Goffstown Tanning Salon
Owners Plan To Reopen On Schedule Despite Wreck

GOFFSTOWN - A truck plowed through the front door of a new tanning salon in New Hampshire on Saturday.

WMUR reported that Forever Tan recently re-opened under new management when it received a big surprise.

The rig smashed into the front of the business after another truck rear-ended it. The collision sent glass flying and caused structural damage to the building.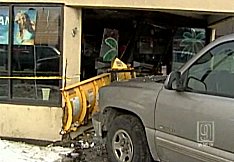 Only two people were in the business at the time -- and they were in back, which likely prevented any fatalities, fire officials said.

"I was standing out back. I heard a big loud noise," said Chantal O'Connor, owner of Forever Tan. "I was shocked to see a big plow in my waiting room."

"We just opened four weeks ago... This is a heartbreak, but at least no one got hurt, that's what really matters," said Bill O'Connor, owner of Forever Tan.

The owners said they've spent tens of thousands of dollars to realize their small business dream. They said Forever Tan will hold its grand opening as scheduled on Feb. 7, even with this setback.

The Goffstown Fire Department stabilized the front of the building to ensure it didn't collapse, and a construction crew finished the job later in the afternoon.

Police said the accident remained under investigation Saturday evening.

---