October 9, 2008

Judge: You don't belong in prison

By DALE VINCENT
New Hampshire Union Leader Staff

MANCHESTER - A Goffstown man pleaded guilty yesterday in Hillsborough County Superior Court to driving drunk a year ago and smashing head-on into another vehicle, killing teacher Edward Bailey of Merrimack.

But Judge Gillian Ambramson told Jason Lambert, 36, that he doesn't belong in prison.

As about 80 of Lambert's family members and friends looked on, Abramson said: "Nobody in this court doubts that you are a good man."

Although Lambert didn't intend to kill the 63-year-old Nashua North High School teacher, the judge said, "The simple fact is that you did."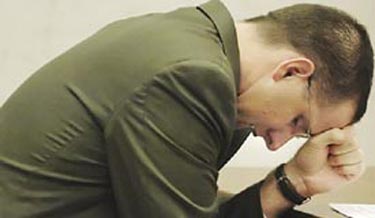 Jason Lambert reacts yesterday after listening to a victim impact statement.
(Photo BOB LAPREE)
Abramson then sentenced Lambert, a civil engineer who works for Eckman Construction, to 12 months in the Hillsborough County House of Corrections in a work-release program on the negligent homicide charge. With good behavior, Lambert will be free and back home in eight months.

The sentence was stiffer than the suspended sentences sought by the defense and lighter than those sought by the prosecution.

The sentences were not tough enough for two close friends of the victim, Marli and Kevin Bourgoin, who said Bailey's family expected accountability.

"It did not happen," said Kevin Bourgoin.

The Bourgoins said Bailey's children were too distraught to attend the plea and sentencing.

Prosecutor Andrew Ouellette, who had laid out the state's case, admitted he was surprised at the sentence.

Ouellette said Lambert and his friends had chosen a designated driver in anticipation of drinking on their September 2007 expedition to a Boston Red Sox game. But around midnight, when Lambert arrived back at the Macy's parking lot in Bedford where he'd left his pickup truck, he refused the offer of a ride home to Goffstown and chose to drive himself.

The prosecutor said Lambert drove his truck the wrong way up an off ramp onto the highway and headed north in the southbound lane of Interstate 293.

By the time Lambert saw headlights coming toward him, it was too late, said Ouellette.

"The two vehicles collided head-on," he said, fatally injuring Bailey.

Ouellette said Lambert admitted he had too much to drink and a blood-alcohol test show a.21 level, approaching three times the legal limit.

Lambert's wife, Jen, told the judge: "He's a selfless man."

Lambert's brother-in-law, Don Pichette, added: "The world is just a better place with Jay in it."

The Bourgoins also said that was true of Bailey, before Lambert killed him.

"He had a passion for teaching and, with incomparable care and patience, would do anything in his power to help others succeed in life," Marli Bourgoin said in a written statement read by a victim advocate.

She said Bailey had worked late that Friday night, leaving at 10 p.m. only because the janitor said he was turning out the lights. She said Bailey went out to eat before heading home.

Because Jason Lambert chose to drive drunk, Bailey never made it, she said.

After getting out of jail, Lambert will be on probation for five years and have to perform 500 hours of community service, including 24 presentations in schools and driver education classes. He loses his license for seven years and is prohibited from consuming alcohol. The 3 1/2- to seven-year sentence for aggravated driving while intoxicated is all suspended.

Most UnionLeader.com readers were critical of the sentence, although some approved the judge's decision.

Lee of Keene wrote: "In this day and age and with all the public service announcements we have throughout the country, I am appalled taking someone's life while drinking and driving isn't murder!''

MP of Hampton Falls: "Judges have discretion, and maybe the facts warrant leniency. And I am that rare bird that doesn't support proactive DWI enforcement. But I certainly support reactive enforcement, and a one-year sentence on a negligent homicide charge sends absolutely the wrong message.''

Andrew of Greenland: "I knew Jason in college real well and he was a good person. Hopefully this horrible and tragic event will bring some positive light to someone in his community service.''

---