June 20, 2008

Goffstown man arrested on graffiti charges
Tells arresting officers: 'You guys just arrested legends'

By PAT GROSSMITH AND DALE VINCENT
New Hampshire Union Leader

MANCHESTER – Two spray painters caught defacing a downtown building early yesterday morning are believed to be among the city's most prolific vandals, police said.

Justin Frost, 19, of Manchester, and Derek Gagnon, 20, of Goffstown, were arrested yesterday after a Verizon Wireless Arena security guard spotted them on a security camera, according to Capt. Richard Valenti. Police officers tracked the men to Central Street, where they were allegedly found with wet paint on their hands and aerosol paint cans in their possession.


Justin Frost, left and Derek Gagnon
Police believe Gagnon and Frost are two of the most active graffiti "artists" in Manchester, Valenti said. Their tags, according to police, include the phrases "DKRANE" and "Hostyle Fam," both of which can be found throughout the city.

Yesterday, Gagnon bragged to police as he and Frost were placed in a transport wagon, according to police prosecutor Stephen Reardon. "You guys just arrested legends!" he reportedly said.

Both men were charged with felony criminal mischief and violations of prowling and possession of graffiti tools. They were arraigned yesterday in Manchester District Court, where each pleaded innocent to the violations. The court did not accept pleas for the felonies.

Probable cause hearings were set for July 2.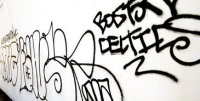 Graffiti on the back wall of the Athens
Restaurant in Manchester. (BOB LAPREE photo)
Anti-crime activists celebrated the arrests yesterday. Tracy Degges, a member of the mayor's anti-graffiti task force, called the bust a "big one."

"I mean, these guys' tags are all over our city," she said.

Yesterday, police found fresh "tags" on six businesses: Athens restaurant, TJ's Sports Bar, The Elm Street Shop, La Cage Boutique, The Beauty Salon and Greg's Place. The tags included "DKRANE," "DK" and variations on "Hostyle Fam."

Police said the words "Hostyle Fam" were scrawled on the screen of Frost's cell phone. An arrest affidavit says Gagnon's tag is known to be "DK."

Gagnon, 260 Goffstown Back Road, appeared before a district court judge for an altogether different reason earlier yesterday, when he pleaded no contest to unrelated charges of unauthorized use of a vehicle and resisting arrest. He was sentenced to 12 months in jail, with 11 months suspended.

Frost, of 480 Auburn St., also faces unrelated charges. Authorities allege he failed to appear in Merrimack District Court on June 30 to face a charge of driving after suspension. He is also accused of failing to appear in Manchester District Court on charges of speeding and conduct in public, as well as an outstanding stop sign violation.

The Manchester charges will be addressed July 2.

Police were alerted to the vandalism yesterday when a Verizon Wireless Arena security guard called at 3:05 a.m., saying he saw the men on security surveillance of the area, according to Valenti. When officers arrived, Valenti said, they spotted two men dressed in black in the footpath between TJ's Sports Bar and the Athens Restaurant.

The men fled but were found on Central Street, he said.

The criminal mischief charges are felonies because the damage exceeded $1,000. The penalty is a sentence of 3 1/2 to seven years and a fine of up to $4,000.

Bail for both men was set at $10,000 cash/surety, with a no-contact condition and overnight curfews. Frost's curfew is 8 p.m. to 6 a.m., but the start time for Gagnon was changed to 8:30 p.m. because he said he does litigation review for a Salem law firm until 8 p.m. on Monday and Tuesday. Frost is unemployed.

Dozens of readers who left comments on UnionLeader.com yesterday applauded the Manchester Police for making the arrests.

"People make mistakes, but these kids should be punished in the hope that they will grow up to be men some day," said one reader, identified online as Bob Kratz, of Manchester.

"This is not art ... it's criminal," said another reader, identified as Ann Richards, of Manchester.



---