GOFFSTOWN - William Tracey, 23, of Goffstown, is scheduled to go on trial during the week of June 27 on three counts of felony robbery for allegedly threatening store clerks with a knife during two heists last April and May. Both robberies were perpetrated on the same Derry video-game store.

His alledge accomplice, Scott Frechette of Manchester, remains at large. He disappeared sometime in august, around the time of Tracey's arrest.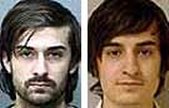 Frechette, left, and Tracey.
Both men face the same charges in the armed robberies of the Gamestop located at 35 Manchester Road in Derry on April 27, 2010, and again on May 11, 2010. Each charge is punishable by up to 7- to 15 years in state prison and a $4,000 fine.

According to police, Frechette and Tracey wore bandanas and black hoods to cover their faces during the first robbery in April before entering Gamestop. Both men carried knives and used them to threaten store clerks. They left with an undisclosed amount of cash, police said.

They are alledged to have returned again to the same store on May 11 and again threatened two different employees with a knife. They wore the same disguises as used in the April robbery.

During that robbery, an Xbox 360 game console was taken in addition to cash from the register, indictments say.

Tracey is currently free on $20,000 bail.
---

Copyrightę2011, Goffstown Residents Association. All Rights Reserved.