GOFFSTOWN - Scott Leafe, 43, of 445 Tibbetts Hill Road, was arrested Wednesday and charged with manufacturing marijuana, a Class B felony, after Goffstown police found over 20 marijuana plants growing inside his home more than a week earlier.

At that time, EMTs had been called to the residence in response to a report of a man lying in the snow outside of Leafe's home who appeared to be in distress. The man was Scott Leafe.

Unfortunately for Leafe, Goffstown police responded to the call as well.

While Leafe was being attended to by EMTs outside, police entered the house looking for other occupants. It was then they discovered over 20 marijuana plants and equipment for growing and manufacturing marijuana. Later that afternoon, police obtained a search warrant and seized the equipment and plants.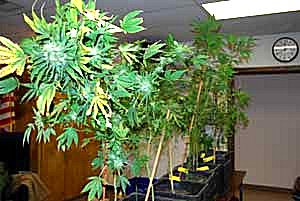 Police arrested Scott Leafe, 43, of Goffstown on Wednesday,
charging him with manufacturing marijuana. Police discovered
the plants inside Leafe's home after responding to a medical
call at his residence on Feb.14. (Photo: Greg Kwasnik)
But because of Leafe's medical condition, he was not arrested until Wednesday, nine days after executing the search warrant.
Leafe was released later in the day on $5,000 bail and is scheduled to be arraigned in Goffstown District Court on April 5. He could face up to seven years in jail if convicted of a Class B felony.

Police are continuing their investigation into Leafe's alleged marijuana growing operation and expect to make more arrests in the coming days.

Anyone with information is asked to contact the Goffstown Police at 497-4858.
---

Copyrightę2011, Goffstown Residents Association. All Rights Reserved.