January 22, 2010
Concerns aired over plowing runoff
By GREG KWASNIK


GOFFSTOWN - When resident Wayne Perreault took a stroll over the Main Street bridge one afternoon late last winter, he wanted to get a picture of the sun setting over the Piscataquog River. What the amateur photographer found instead was a mound of brown sludge lying on the still-frozen waterway.
"I looked down and that's what I saw – all that dark stuff from the road that had splashed up and been plowed onto the sidewalk," Perreault said.
Concerned, Perreault took several photographs, which he sent to the Environmental Protection Agency. After eventually being told that the spillover was the responsibility of the Goffstown Department of Public Works, Perreault figured the issue had been resolved.
But when Perreault found the same brown slush on the river this winter, he decided to renew his efforts by sending a letter to the Governor's Council. The complaint was relayed to the New Hampshire Department of Environmental Services, which sent a representative to investigate last weekend.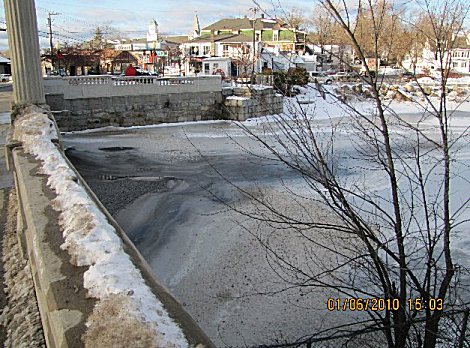 Photo courtesy of Wayne Perrault.
NHDES is still evaluating the complaint, and would not comment on whether any environmental laws had been broken.
"Until we have somebody visit the site and evaluate the complaint, it would really be speculation to characterize exactly what the issue may or may not be and what environmental laws and regulations might be of concern," said Harry Stewart, director of the NHDES Water Division.
Carl Quiram, Goffstown's Director of Public Works, said that he had not broken any laws.
"We're not doing anything wrong. Obviously, we care about the environment – we're not dumping snow into the river," Quiram said. "It's just that when we plow across the bridge, the snow goes onto the river and the ice. It's no different than any other place in the northern part of the country."
Quiram said he had spoken with NHDES and explained that keeping the town's sidewalks clear would inevitably result in snow going over the bridge and into the river.
"There's a public safety factor that we have to clear the roads and bridges," Quiram said. "There's no way around it."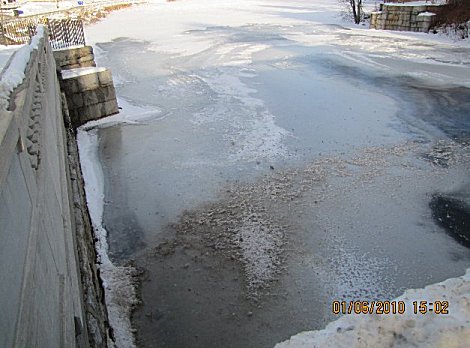 Photo courtesy of Wayne Perrault.
Though NHDES has not commented on Goffstown's plowing practices, one state environmental expert said that rivers and streams across New Hampshire are feeling increased effects from winter storm runoff.
Ted Walsh, manager of the NHDES Volunteer River Assessment program, said that more and more New Hampshire waterways are being added to the state's impaired waters list because runoff from winter road salt.
"There are other things that contribute to it, but road salt is certainly the largest in a state like New Hampshire," Walsh said. "We're finding more and more streams that go on our impaired waters list because of high chloride levels that are above our water quality standard."
The Piscataquog River is not on the impaired waters list, Walsh said, mainly because its high volume of water quickly dilutes any salt that flows in. Walsh said that the state is working with towns and cities to use salt more efficiently.
Regardless of whether the Goffstown DPW broke any environmental laws, Perreault still hopes to change plowing practices in town.
"An Eagle Scout went around a couple of years ago and painted salmon stencils around all the storm drains to the river, so that people wouldn't be throwing any type of chemicals down in there," Perreault said.
"This is where Goffstown Main Street has the Pumpkin Regatta - and this is where DPW is dumping contaminated snow into the river. I just want to make people aware and hopefully town officials will make sure it's corrected."


---
Copyright©2010, Goffstown Residents Association. All Rights Reserved.