October 30, 2009

Fallen Marine, a St. A grad, is remembered
By JILLIAN JORGENSEN


GOFFSTOWN - A graduate of St. Anselm College and quarterback of the school's comeback football team, who went on to serve in the U.S. Marine Corps, was one of 14 Americans killed in two separate helicopter crashes in Afghanistan Tuesday.

Capt. Kyle R. Van De Giesen, 29, a helicopter pilot, was killed in the line of duty in Afghanistan, his family said Tuesday. Van De Giesen, a native of North Attleboro, Mass., was the quarterback of St. Anselm's 1999 football team, the first varsity squad in almost 60 years. He was part of the ROTC program at the college and received a degree in criminal justice in 2002.

"It is with sadness today that we learned that our son, brother and husband, Marine Captain Kyle R. Van De Giesen, was killed today in the line of duty in Afghanistan," his family said in a statement. "He fulfilled his lifelong dream of becoming a Marine helicopter pilot, protecting his family and serving his country," the statement continued.

A U.S. military helicopter crashed Tuesday while returning from the scene of a firefight with suspected Taliban drug traffickers in western Afghanistan, killing 10 Americans including three DEA agents. Four more troops were killed when two helicopters collided over southern Afghanistan, making it the deadliest day for U.S. forces in this country in more than four years.

It was not clear in which crash Van De Giesen was killed.

Van De Giesen's widow, Megan, is expecting a son. They also have a daughter, Avery. Van De Giesen had been stationed at Camp Pendleton in San Diego. He is also survived by his mother, Ruth Ann Van De Giesen, his father, Calvin Van De Giesen, his brothers, Ryan and Christian, and his sister Caitlin.

U.S. military officials insisted neither crash Tuesday was believed a result of hostile fire, although the Taliban claimed they shot down a U.S. helicopter in the western province of Badghis. The U.S. did not say where in western Afghanistan its helicopter went down, and no other aircraft were reported missing.

The second crash took place when two U.S. Marine helicopters -- a UH-1 and an AH-1 Cobra -- collided in flight before sunrise over the southern province of Helmand, killing four American troops and wounding two more, Marine spokesman Maj. Bill Pelletier said.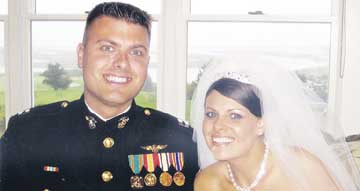 Marine Capt. Kyle Van De Giesen, a graduate of St. Anselm College, shown
here with his wife, Megan, was killed in a helicopter crash in Afghanistan
on Tuesday. (COURTESY)
The casualties marked the Drug Enforcement Administration's first deaths since it began operations there in 2005. Afghanistan is the world's largest producer of opium -- the raw ingredient in heroin -- and the illicit drug trade is a major source of funding for insurgent groups.

The U.S. has decided to target production and distribution networks after programs to destroy poppy fields did little except turn farmers against the American-led NATO mission.

NATO said the helicopter containing the DEA agents was returning from a joint operation that targeted a compound used by insurgents involved in "narcotics trafficking in western Afghanistan."

Van De Giesen's family said it had no further information about his death, and said final arrangements were still being made.

"There are some people who have a real sense of duty, and that's what he had," said Peter Cordella, chair of the criminal justice program at St. Anselm.

Van De Giesen was recruited to the school to play football, according to Cordella, who taught Van De Giesen and served as his academic advisor. He played his freshman year, before the school had a varsity team, and on the new varsity team in 1999.

"People talked about what a great quarterback and leader he was," he said. But Van De Giesen, who had also played football at North Attleboro High School, soon shifted his priorities away from football and toward getting his degree, joining the military and becoming a pilot, Cordella said.

Edward Cannon, of Goffstown, was athletic director when Van De Giesen played on the team.

"He was a great kid," he said. "He helped start our program, but more importantly, he had a love for the service. Even at that young age he very much wanted to be in the service."

Cordella said that he learned of Van De Giesen's unwavering desire to serve his country as his academic advisor.

"Most students, myself included years ago, have sort of a vague sense of what they want to do. But he was very, very clear," he said.

Cordella said some of Van De Giesen's former teammates had been asking for him just two weeks ago, at the school's homecoming, which was the 10th anniversary of the 1999 team's season.

"There are always a core set in every cohort that comes through, a core set of students that really stand out. And he was one of those people," he said.

Van De Giesen was always prepared and had a "sort of quiet confidence about him," Cordella said.

"He seemed to have good rapport with all different kinds of constituencies on campus," he said. "I suspect that those are the kinds of qualities and characteristics that play well in the military and on the battlefield."

---