October 2, 2009

The nursery nestled in the hills

GOFFSTOWN - Fall is an especially good time for gardeners to drive scenic country back roads, exploring out-of-the-way locally owned nurseries. You could hardly do better now than wend your way to Uncanoonuc Mt. Perennials, a horticultural gem here in Goffstown. September is the best month of the year for planting, but perennials and bulbs can be planted into October.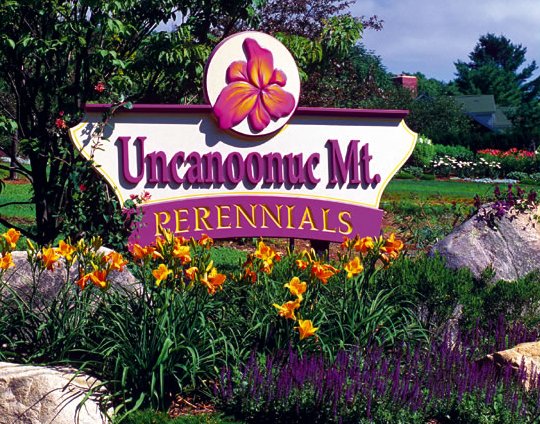 In 1979, a young Cornell University trained horticulturalist named Annette Rynearson bought the field on this south-facing hillside west of Manchester, N.H., in chilly Zone 5, and started selecting, trialing, and propagating beautiful perennials that perform well in northern gardens. Each year she has made the nursery a little bigger and little better, adding a display garden or a shade section or a rose garden or an informative website. Eight years ago she added a unique computer program that prints out all the information buyers need about the plants they've purchased as part of the customer's receipt. After 30 years, her energy and devotion to quality still amazes.

"It's all about the plants,'' said Rynearson, a youthful-looking woman with a lean body and a farmer's tan. "I don't sell earrings or tools or dinnerware. Just plants.'' In an era when most independent nurseries have had to stock doodads to survive, that's a rarity.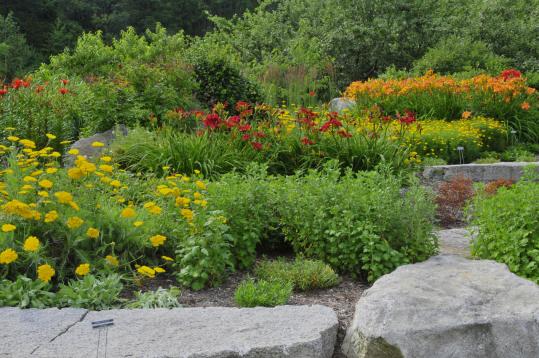 There are no jewelry, tools, or knickknacks for sale at Uncanoonuc Mt. Perennials, just lots of plants.
(Photo by Robert D. Mussey Jr.)
Rynearson has built up an inventory of 900 carefully chosen perennials and shrubs for horticultural Zones 5 and 4, which include almost all of northern New England. Her staff is mostly young women, but Rynearson's husband, Mark, a landscape architect she met at Cornell, does the landscaping. His work includes an outstanding display garden and a granite fountain that employees have playfully decorated with tiny plastic dinosaurs, changing the scale of the waterfalls.

"We've been married 33 years come October, and we have completely separate businesses. That's how we stay married. But it dovetails nicely,'' she said. Their two children have grown and "flown the coop.''

The nursery's name (pronounced un-ca-NOO-nuc) comes from the Algonquin word for a woman's breast. "We live halfway up North Uncanoonuc Mountain. There's a North and a South Uncanoonuc, two gently rolling mountains. I sometimes say we're nestled right into nurturing Mother Earth.''

The new plant Rynearson is most excited about this year is a standard rose tree called Polar Joy. It's from Bailey's Nursery in Minnesota and it's the first rose tree hardy enough to survive in 30 degrees below zero. "It offers a whole new vertical element for northern gardens.''

Located more than an hour's drive from Boston, Uncanoonuc Mt. Perennials is at 452 Mountain Road. The nursery is open 9 a.m. to 5 p.m. Wednesday through Sunday through the end of the month.

The website (www.uncanoonucmt.com) has directions and many pages of horticultural tips for northern gardeners.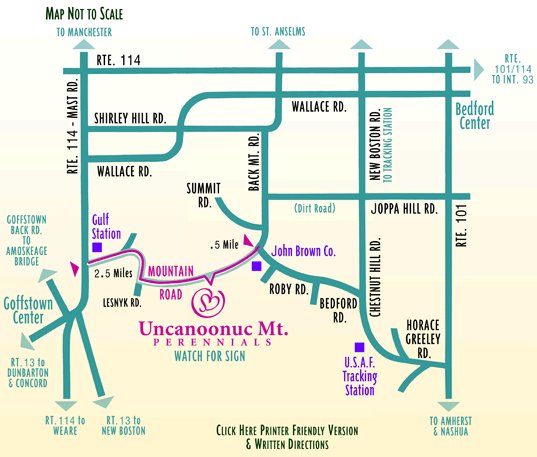 ---