October 2, 2009

Recycled Percussion is Vegas bound
By SARAH LEBRUN

GOFFSTOWN - Recycled Percussion packed the Goffstown High School gym during a free concert Monday, Sept. 21, a homecoming performance after finishing in third place on NBC's "America's Got Talent."

"When we were on the stage in Los Angeles, all we were saying the whole time is, 'Who cares. Let's just make New Hampshire as proud as possible!'" said Justin Spencer, founder of the band, during a speech midway through the show.

Despite a third-place finish, the group was headed out to New York, Delaware and ultimately Las Vegas on Tuesday, Sept. 22, to become one of the acts in the Planet Hollywood Resort's "America's Got Talent Live" show, beginning Oct. 7. The group will also be the headlining band on the FOX Reality Awards show on Oct. 17. Other band members include Ryan Vezina, Jim Magoon and Todd Griffin.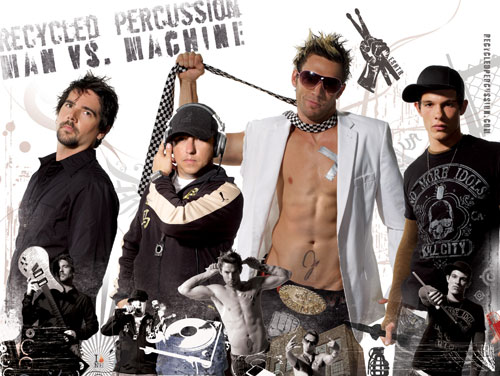 From left to right, band members include guitarist Jimmy Magoon, a graduate of Goffstown High School,
spinmaster, keyboardist and vocalist Todd Griffin, band leader and percussionist Justin Spencer, also a
graduate of Goffstown High School. and percussionist Ryan Vezina

"It feels great (to be back)," said Magoon, a 1992 graduate of Goffstown High School. "It should be a good show."

Spencer, too, is a graduate of Goffstown High School. According to a posting on Recycled Percussion's Facebook page, the 1,100 tickets for the concert were gone within 15 minutes.

"We are sorry for those who didn't get tickets – the band will make it up," the band wrote in one of their postings.

Goffstown selectmen Chairman Scott Gross read a proclamation before Recycled Percussion took the stage, declaring Sept. 21 as Recycled Percussion Day in the town of Goffstown.

"America's Got Talent" top 40 finalist Mia Boostrom was also seen making her way into the gymnasium before the show.

Often times during the show, the sounds of Recycled Percussion were drowned out as the crowd in the gym went wild, screaming in excitement as the band played.

Two of the numbers the band played were pieces they did on "America's Got Talent" – "Wipeout" and "Ballroom Blitz." And when Magoon played the national anthem on stage, the other three band members made themselves scarce as he wailed on his guitar, sending the audience into a frenzy.

During the show, Spencer also said the band was setting up a scholarship fund for "kids who want to rock and roll."
---