September 17, 2009

Recycled Percussion finishes 3rd
"I would put you in Vegas tomorrow", (Piers Morgan, judge)

LOS ANGELES - On Wednesday night, former chicken-chaser Kevin Skinner flew the coop with the grand prize on "America's Got Talent" Goffstown's Recycled Percussion is headed home.

The band, which includes includes Justin Spencer, Jim Magoon, Ryan Vezina and Todd "DJ Pharoah" Griffin – finished in third place in NBC's "America's Got Talent."

Spencer and Magoon hail from Goffstown.

On Wednesday night, the group attempted to outplay a break dancer, an opera singer, a baritone and a singer/guitarist for the grand prize: $1 million and a chance to headline a Las Vegas show.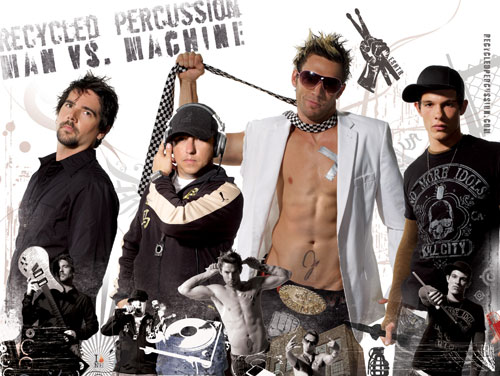 From left to right, band members include guitarist Jimmy Magoon, a graduate of Goffstown High School,
spinmaster, keyboardist and vocalist Todd Griffin, band leader and percussionist Justin Spencer, also a
graduate of Goffstown High School. and percussionist Ryan Vezina
Recycled Percussion's burst onto the national stage has lots of people around here pretty psyched.

"There's tons of excitement, with Justin and Jimmy being graduates," said Frank McBride, principal of Goffstown High School for 15 years, in a previous interview. "It's great to see that they've done so well for themselves."

McBride remembers a 1995 talent show in which Spencer first played on recycled stuff.

"I mean, it was definitely lots of energy," McBride said. "It was captivating."
"Gentlemen, that was an absolutely brilliant way to end a brilliant show," judge Piers Morgan told them Monday. He said their act was the most dynamic and exciting on the show. "I would put you in Vegas tomorrow," he said.

From then on, it was up to America to vote for their favorite acts, and Recycled Percussion beat out several fan favorites before being bested themselves by Barbara Padilla, an opera singer and cancer survivor, and Skinner.

Kevin Skinner, the singing chicken farmer from Mayfield, Ky., was awarded the NBC talent competition's $1 million grand prize and a headlining spot at a Las Vegas show. Skinner received the most viewer votes on Wednesday's season finale, overcoming runner-up Barbara Padilla, an opera singer from Houston, and eight other finalists.

Before Skinner was announced the winner, Susan Boyle made her U.S. TV singing debut with a rendition of the Rolling Stones ballad "Wild Horses." The dowdy Scottish sensation surprised viewers of "Britain's Got Talent" earlier this year with her soaring rendition of "I Dreamed a Dream."

Visit their website at http://recycledpercussionband.com/ .


---