September 11, 2009

Hundreds bid farewell to 'Katie'
Local girl's life commemorated
By AMY J. VELLUCCI

GOFFSTOWN - Kathryn "Katie" Towle Daniels' first wish was to have her friends and family celebrate her life in a big way. Her wish was granted on Saturday, Aug. 22, when as many as 500 showed up at her home, on 18 S. Mast St. in Goffstown Village, to remember her and commemorate what would have been her 25th birthday.

Katie died on Friday, Aug. 21, at her home, surrounded by her loved ones. She was 24 years old. She would've turned 25 on Aug. 28. This was her second wish – to die at home instead of in the hospital bed where she'd spent so much time the last few months. A staggering number of people, more than 800, turned out days later for her wake at French and Rising Funeral Home on Tuesday, Aug. 25. Many waited in line for as long as two hours to pay their respects to family of the happy, outgoing young woman who fought a lifelong battle with cystic fibrosis, a life-shortening disease that affects the lungs and digestive system.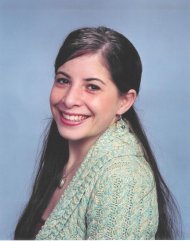 Goffstown's Kathryn Towle Daniels
"It was peaceful," her stepfather, Renald Dubreuil, said shortly after her passing. A peaceful end for a Goffstown girl who led an active life and never let the disease she was born with stop her from doing what she wanted.

"My niece was a brave woman who faced her disease with calm and grace, never letting cystic fibrosis get in the way of living her life. Kate was a very happy person who never complained or said 'poor me,'" said Sharon Petersen, Katie's aunt. "She was a woman that people gravitated toward because of her beautiful smile and gregarious laugh, which was contagious.

I will miss her terribly and I will be forever grateful for the wonderful memories we shared over her lifetime." At the luau-style party on Aug. 22, the family had a photographic memorial set up in their garage and friends and family passed through, looking at the images of Katie enjoying life, laughing and smiling. They recounted stories of time spent with her. Those attending her calling hours wrote down their memories and placed them in a box. Others scribbled messages on a memory quilt.

Daughter of Ursula Petersen Dubreuil and Peter J. Daniels, stepdaughter to Renald Dubreuil, whom she affectionately called "D", and sister to Emily Daniels, Katie was anything but a sick kid, her mother is quick to point out. Indeed. She was a runner at Goffstown High School and even took several awards in cross country and track and field.

She drove fast, enjoyed rock climbing, playing cards, ice skating, scrapbooking and traveling.

Her favorite place was at the ocean. A photograph of her near the surf, with her hands thrown up in the air, depicts the Katie so many knew and loved – seemingly carefree, grinning, the ocean breeze blowing her long, dark hair.

Katie was strongly independent and outgoing. She lived on her own for awhile and earned a degree in travel and tourism from NHTI. An avid watcher of HGTV, she selected all the paint colors in the family's home, her mother said. She was working toward a degree in interior design.

Everyone in town knew Katie, it seemed, her life inextricably woven into the fabric of this small New Hampshire community. She attended Goffstown's public schools and graduated from Goffstown High School in 2002. Her mother is a marketing consultant for The Goffstown News and has lived in Goffstown for many years.

In February, Katie's lung collapsed and she simply couldn't bounce back from that setback, as she'd always done. In the last few months, her mother and stepfather cared for her around the clock, receiving help from other family members. Sometimes she'd have extended stays at Dartmouth-Hitchcock Medical Center in Lebanon. Emily traveled back and forth from Washington, D.C., to be with her sister on weekends.

Though painful to endure, knowing her life was coming to an end did have its advantages. When the family learned Katie's time was limited, they cherished the remaining weeks with her, spending lots of time helping her do the things she wanted to do. A week before she died she took a trip to Sebago Lake, Maine, with her father and sister.

And everyone whose life she touched told Katie how they felt about her.

"We got to say everything we wanted to say. It was good," said her sister, Emily, smiling.

Ursula said her daughter's biggest fear was being forgotten. This broke her heart. She reassured her daughter that would never happen. And, to that end, she plans to set up a track and field scholarship in Katie's name at Goffstown High School.

"She was a wonderful, wonderful girl," her mother said.

Katie was laid to rest on Wednesday, Aug. 26, after a Mass of Christian burial at St. Lawrence Church.

Her friends and family say her vitality, exuberance and spirit will live on in all of those who had the good fortune to know her and love her.

---