May 20, 2009

GCCA Recognition Dinner Held
By GLORIA PROULX, Goffstown Edge

GOFFSTOWN - The Greater Goffstown Community Association held its 17th annual "Youth Appreciation Night" on Saturday, May 16, at St. Lawrence Church, to recognize 7 local youth. Over 70 family members, friends, and teachers/staff were treated to a very special awards presentation as well as dinner and ice cream sundaes.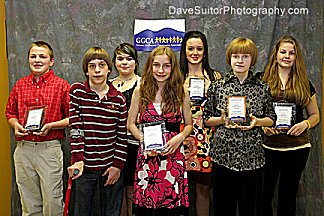 Staff from Mountain View Middle School and Goffstown High School voluntarily submitted nominees that met the award criteria. Applauded for reaching significant goals, overcoming adversity, making a positive difference, or unselfishly giving of themselves to help others were, from Mountain View Middle School: Hannah Bergeron, Cassandra Hoffard, Dale Keith, Corey Lang, and Kelsey Wight. From Goffstown High School: Brianna Dauphinee and Melissa Enman.
GGCA thanks goes out to those who contributed to and attended the ceremony to read their nominations aloud, and to family members who also added personal sentiments by writing their own "words of appreciation" and reading them to their child during the awards presentation.
GGCA member and MC Tim Hogan presented each youth with a personalized award and laminated nomination letters as a keepsake. In addition, each recipient will be honored at a future Fisher Cats game. Free photos were taken of all families courtesy of Dave Suitor.
The GGCA would like to thank Goffstown Hannaford, WalMart, Harvest Market, Blake's Creamery and Aubin Hardware for their support of this event, which was free to honorees and their guests.
Keep your eyes open for upcoming GGCA events. If you are interested in making a difference in your community, contact Dick Gagnon at 345-4004 to find out more about the GGCA whose motto is "Positive people helping to improve the well-being of our community.
---