November 21, 2008

Goffstown soldier comes home

GOFFSTOWN - A Goffstown soldier arrived home for the holidays Thursday morning and had an emotional reunion with his family and the baby son he hasn't seen in six months.

Cpl. Edward Masten touched down in Manchester, where his family was waiting for him. His grandmother, Patricia Medeiros, said that he hasn't been home since June.

His son, Owen, was 4˝ months old when he last saw his father. That doesn't mean that Owen has no idea who his dad is. Every day, he's shown a picture of Masten to help maintain their connection.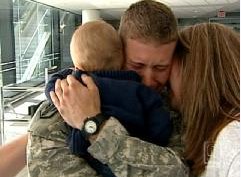 Cpl. Edward Masten is welcomed home by his family.
When they were reunited in Manchester-Boston Regional Airport, the connection seemed clear. Masten started to cry as he held Owen in his arms.

"You got heavy, too," Masten said.

The family hugged and cried, saying it was looking forward to the weeks ahead and a Thanksgiving spent as a family.

Masten will be home for three weeks, and then he will go back to Iraq. He said that when he finishes his tour of duty, he would like to return to New Hampshire and become a state trooper.
---