October 15, 2008

No bail in New Boston stabbing

GOFFSTOWN - A Goffstown man was arraigned on a charge of second-degree murder Tuesday in the death of his wife at a New Boston, N.H., campground.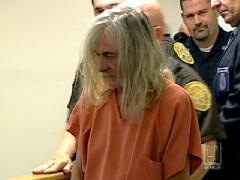 Robert Dupont
Police said Robert Dupont, 60, stabbed his wife, Jo-Ann Francis, 60, at the Friendly Beaver Campground on Monday. Francis' body was found early Monday morning in the seasonal home she shared with her husband.
"At this stage, the investigation is still ongoing," said Senior Assistant Attorney General Jane Young. "An autopsy won't be performed on Mrs. Francis until tomorrow. We can't give any further details at this time."
Dupont didn't say anything as he sat before the judge and listened to Young refer to New Hampshire law in order to convince the court to not grant bail.
"Any person arrested for an offense that is punishable for up to life in prison -- which this offense is, your honor -- where the proof is evident or the presumption is great should not be allowed bail," Young said.
The judge agreed and Dupont was ordered held without bail. As he was led away, his daughter called out to him, "Dad, I love you. I love you."
His daughter and other family members in court declined to comment.
Dupont will be held at the Valley Street Jail in Manchester until his next scheduled court appearance.
---