June 14, 2008
GHS Wins State Class L Baseball Championship

MANCHESTER – Eric Badasarian saved the Class L championship for third-seeded Goffstown tonight before about 800 vocal fans at Merchantsauto.com Stadium.

Responding to a pressure-packed situation, the senior righty managed three outs to save Goffstown's 4-3 win over top-seeded Salem.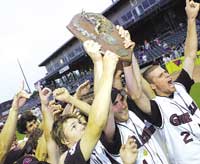 The 2008 Class L Baseball Champions
from Goffstown High School, lead by Head
Coach Matt Benson, holding trophy, celebrate
their win over Salem tonight at Merchantsauto.com
Stadium in Manchester (James Cook photo).

It was Goffstown High School's first title since joining Class L in 2003.

Salem fought back from a three-run deficit to tie the game in the bottom of the sixth inning, but Goffstown pulled ahead in the top of the seventh, thanks to Kory Kiro's RBI single.

No. 3 and clean-up hitters, Joe O'Dell and Kyle Johnson, led off Salem's seventh with walks. Goffstown coach Matt Benson then summoned Badasarian to the mound.

"There wasn't much to say to the kid, he's a senior," said Benson. "That's how you win, with seniors."

"I was excited for the opportunity," said. Badasarian. One of nine Goffstown seniors, he struck out one batter and earned the second out on a shallow fly to right. He then loaded the bases by hitting Matt Hardy.

The Grizzlies pitcher got two quick strikes on curve balls and the coaching staff signalled for another.

"I thought the kid would be looking for a curve," said senior catcher Steve Case. "So for the first time all season, I shook the coaches off and called for an outside fastball."

The pitch went for a game-ending called third strike.

"I've played three sports (hockey, football and baseball) trying to get Goffstown a state title," said Case. "I graduated yesterday and today we finally bring one home."

The Grizzlies took the lead in the top of the seventh inning.

Hickey singled and scored on Kiro's single.

"I was just looking fastball -- something to drive -- and that's what I got," said Kiro. "I couldn't think of a better way to end my career."

The loss capped a memorable sports year for Salem. The girls' volleyball, field hockey and gymnastics team, along with the boys' basketball, volleyball and tennis squads won state titles. Plus, the softball and cheerleading programs garnered runner-up plaques.

It was Salem's fourth trip to the finals in the past seven seasons. Thirteen players graduated the night before.

"This ranks right up there with some of the best championship games," said Salem coach Dan Keleher. "We had a chance to win it and came up short. We gave it a shot. I told these kids I would never ever think negatively of them. They have done so much for Salem."

Tom MacDonald fouled off four two-strike pitches before lining a single to right, igniting a two-run Goffstown rally in the third inning. He scored on a throwing error while swiping third before Case's single scored Travis Rand.

Consecutive singles from Josh Lafond, Kiro and Eric Badasarian in the fourth gave Goffstown a three-run lead.

Salem responded in the bottom of the inning. Pinch hitter Brad White struck a first-pitch bases-loaded single, scoring O'Dell and pinch runner Mark Bergeron.

Goffstown looked to increase its lead in the sixth when MacDonald stroked a grounder towards center on a hit-and-run play with runners at the corners.

Salem shortstop Joshua Heil, heading towards second to cover the bag on the attempted steal, gobbled up the grounder and fired home.

Greg Gardner tagged Kiro, sliding to the far corner of the plate.

Then relief pitcher Matt Hardy induced a rally-ending pop-up.

The play swung momentum in Salem's direction in the bottom of the inning when the Blue Devils loaded the bases with one out, forcing a pitching change. Joshua Jones worked a full-count walk, forcing home Greg Bates to tie the game at 3-3 before reliever Rob Hunt ended the threat with two strikeouts.

"Hunt got the job done. He shut the door," said Benson of his junior reliever who replaced MacDonald in the sixth. "Then all we had to do was get out of the seventh."





---