June 12, 2008
GHS reaches Class L Championship

NASHUA – An attitudinal thing helped Goffstown advance to its first-ever Class L baseball final with a 4-1 win over Manchester Memorial yesterday afternoon at Holman Stadium.

In Saturday's championship, third-seeded Goffstown will face top-seeded Salem, a 3-1 winner over No. 5 Nashua North in last evening's night game.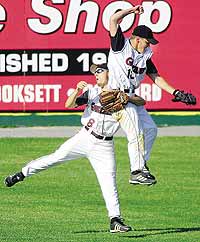 Goffstown center fielder Nick Campasano (8) and
left fielder Matt Auger-Lencki celebrate the game's
final out. (Mark Bolton photo)

The Grizzlies weren't thinking about last season's semifinal loss to a 13th seed as Memorial, this year's No. 15 seed, looked ready to rally in the top of the first inning.

Kyle Morrill's two-out single looked to either score a run or load the bases. Instead, Goffstown third baseman Travis Rand caught a runner rounding third for the third out.

"Always think forward, never back. That's what we've been preaching all season. You could see it on that play," said Goffstown coach Matt Benson.

Then Goffstown plated two runs on three hits (two a result of erratic bounces) and a two errors in the bottom of the inning. A potential deficit became a 2-0 lead.

Aided by an error-free defense -- highlighted by left fielder Matt Auger-Lenck's highlight leaps in left -- Grizzlies southpaw Matt Gifford held the lead, scattering six hits while striking out seven without a walk.

"We had Gifford on the ropes and didn't take advantage. Goffstown did," said Memorial coach Don Menswar, whose team advanced by defeating second- and seventh-seeded clubs. "Goffstown made the most of its opportunity."

Memorial's woes continued in the third. Goffstown loaded the bases on two errors and a four-pitch walk before Josh Lafond smacked a two-run single.

"Pitching and defense flat-out won this game," said Benson. "Last year we were kind of shocked to be here. We didn't know we were that good. We learned our lesson and went forward."



---