Another Fish Species In New Hampshire Waters


Another non-native fish has been discovered in Granite State waters recently. The state departments of Environmental Services (DES) and the New Hampshire Fish and Game Department have announced the discovery of a new fish in New Hampshire's waters. It is known as the Rosyside Dace and was found inhabiting Hewes Brook, a tributary of the Connecticut River in Lyme, N.H. The discovery was made in the summer of 2010 by DES biologists during routine biological monitoring activities. The species' identity was recently confirmed by three independent researchers. "While the origin of this species in New Hampshire is uncertain, it seems likely to have been introduced by human intervention," said David Neils, DES biologist.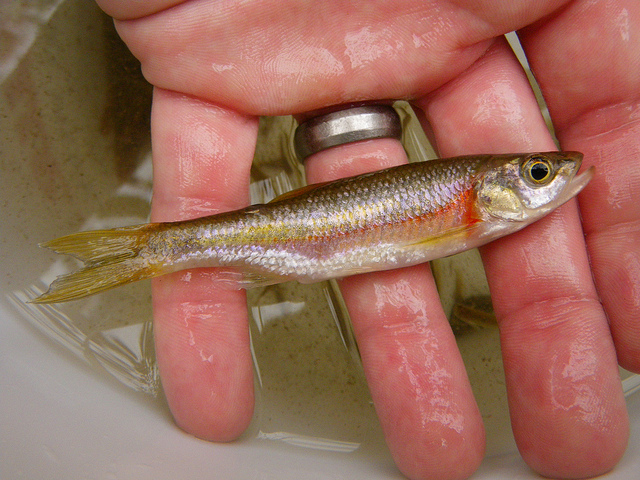 Rosyside Dace (Clinostomus funduloides)
"The introduction of aquatic non-native species to New Hampshire waters presents a serious danger to the ecological integrity of our waterways, as well as our ability to enjoy them," stated Thomas Burack, DES Commissioner. New Hampshire laws and administrative rules prohibit the introduction of non-native species. Specifically with regard to fish and wildlife, the New Hampshire Fish and Game Department Administrative Rules control the possession and importation, and prohibits the release of non-indigenous or non-naturalized fish species into New Hampshire waters. The same rules also prohibit the possession of live fish, other than approved baitfish species, when leaving and freshwaters of the state.

"Anglers are unlikely to catch the Rosyside dace using hook-and-line because of its small size. But, incidental capture is possible by means of baitfish trapping," said Jason Smith, a Fish and Game biologist. Smith recommends that if fish caught are suspected to be the rosyside dace, they should be immediately released back into the waters from which they were captured. Releasing is being recommended rather than destroying the fish to avoid accidental destruction of native minnows if people mistakenly think they are rosyside dace.

As a member of the minnow family, rosyside dace are considered to be a bait fish. They are not, however, on Fish and Game's approval list of bait fish. The Fish and Game Administrative Rules prohibit people from possessing bait fish that are not on the approved list (see
www.fishnh.com/Fishing/baitfish_species.htm), so bait collectors would be in violation if they trapped rosyside dace and did not immediately release them into the waters from which they came.

It is important to note that if people suspect that they have caught other types of exotic non-native fish, they should bring them to the New Hampshire Fish and Game Department for positive identification. Contact the Fish and Game Inland Fisheries Division at (603) 271-2501.

According to Fish and Game Executive Director, Glenn Normandeau, there is no indication at this point that the rosyside dace could cause recreational or economic problems. Glenn advises that ecological impacts to the native fish populations are possible, depending on the ability of the species to expand its range and successfully propagate. Glenn also said that at the time of sampling, 85 individuals were captured. Based on observations, DES biologists estimate the populations of rosyside dace to be in the hundreds.

A member of the minnow family, rosyside dace typically inhabits small streams with adults ranging from two to four inches in length. It's native distribution is recognized as extending from the Delaware River drainage in Pennsylvania to the Savannah River drainage in Georgia, as well as portions of the Ohio River basin. It is not known to occur in the Connecticut River or its tributaries, other than Hewes Brook, at this time.



Bob Harris can be reached via e-mail at: outwriter2@aol.com
Past Columns by Bob Harris >>>

About Bob Harris >>>
---
DISCLAIMER: The opinions expressed by Mr. Harris are not necessarily those of the Goffstown Residents Association or its members
---
Copyright©2009 Goffstown Residents Association. All Rights Reserved.