A Cure for Cabin Fever Coming


I can't think of a worse illness to catch than "Cabin Fever". But, before it hits, there is great news. It's a cure you won't want to miss. What is it? The 35th annual Eastern Fishing and Outdoor Exposition at the Worcester, Massachusetts DCU Center, February 10 through 13, 2011. There will be a wide array of exhibitors occupying the DCU Center floor showcaseing products such as fishing tackle, hunting gear, boats and much more.

"The Expo is a great experience for the whole family and friends," said Show Director, Jonathan Sauers. "Winters in New England can be long and hard. Everyone comes to the Expo to get a taste of Spring and see the latest and greatest in outdoor equipment, as well as to learn new tips and tricks to better enjoy the outdoors. Visitors will be able to roam aisle after aisle of the very best and latest in fishing and hunting gear, guides and lodges, travel destinations, motors, boats, canoes, kayaks, and much more."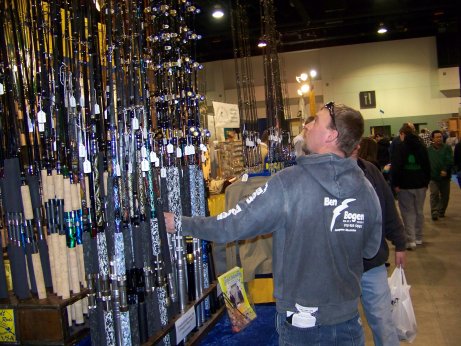 A special feature for kids of all ages is Brody the Bear and his handler, Jeff Watson. Brody is a 1,400 pound male Kodiak bear, the world's largest species of brown bears. Brody and Watson have traveled throughout the United States educating the public about bears and safety while spending time in the back country hiking, hunting, camping and fishing.

Another great activity for children at the show is the Cold River Mining Company, where boys and girls can hunt for fossils in a life-like cave. This is a unique and educational experience for children. Cold River Mining Company also offers a gemstone panning sluice where children can pan for precious metals. Sunday, February 13, is Family Day at the Expo. Children, 11 and under, are admitted free when accompanied by a paying adult. Along with a variety of children-oriented events, including a scavenger hunt, the first 200 children will receive a free Plano tackle box. Additional thrills for the whole family include a virtual fishing simulator, rock climbing wall, air rifle range, archery range and trout pond.

A new attraction at this year's Expo, is the Northern New England's First Winter Dock Dogs competition, conducted by the Hudson Valley Chapter of Dock Dogs International. If your dog loves to jump and swim, please register him or her in this thrilling canine athletic contest.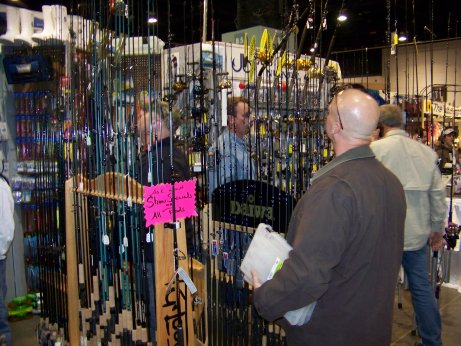 The American Sportfishing Association's (ASA) Bass Fishing Academy is a "can't miss" feature for those who want to gain the edge over their competition or simply learn how to catch more bass effectively. Featuring Mark Zona, Zell Rowland and Danny Correla, the Bass Fishing Academy, is a concentrated classroom program presented by nationally recognized experts and local legends.

Do you have antique fishing tackle and memorabilia that you would like to have appraised? Bring it to the Expo and Lang's Sporting Collectibles will conduct a free appraisal. Since 1990, Lang's Sporting Collectibles has been a trusted source for consigning, appraising and bringing to auction antique fishing tackle, from the 1820's up to the 1940's, with rare and collectible items in every category including lures, reels, rods and other interesting artifacts from our country's angling history.

The Eastern Fishing and Outdoor Exposition show hours are: Thursday and Friday, February 10 and 11, from 12:30 p.m. to 9:00 p.m. and Saturday, February 12, from 10:00 a.m. to 7:00 p.m. and Sunday, February 13 from 10:00 a.m. to 5:00 p.m. Admission is $12.00 for adults and $3.00 for children under 12 years-old. Children under 5 years-old are admitted free. The Worcester DCU Center is located in downtown Worcester, Massachusetts. From I-290, take Exit 16 to the downtown area. If further directions are needed, contact Show Director, Jonathan Sauers at 603-431-4315.

So, get ready for some great fun and learning. It's a great way to kill Cabin Fever.



Bob Harris can be reached via e-mail at: outwriter2@aol.com
Past Columns by Bob Harris >>>

About Bob Harris >>>
---
DISCLAIMER: The opinions expressed by Mr. Harris are not necessarily those of the Goffstown Residents Association or its members
---
Copyright©2009 Goffstown Residents Association. All Rights Reserved.