A Great 2010 Youth Deer Hunt Weekend for 11 Year-Old Jake Niermeyer


The state's annual Youth Deer Hunt Weekend took place on October 23 through 24 and was very successful. According to Kent Gustafson, the Deer Project Leader for the New Hampshire Fish and Game Department, the preliminary report of the 2010 Youth Deer Hunt Weekend results shows that young hunters succeeded in taking 376 deer during this year's hunt program. "That is similar to the 2008 and 2009 totals of 341 and 363 respectively," Kent mentioned. The current number remains preliminary because all registrations have not yet been verified.

"New Hampshire's youth hunters had a productive weekend with many being successful in taking a deer, perhaps their very first. Equally important was the opportunity to learn some deer hunting skills, enjoy the companionship of their hunting mentor and share the excitement of deer hunting," Gustafson said.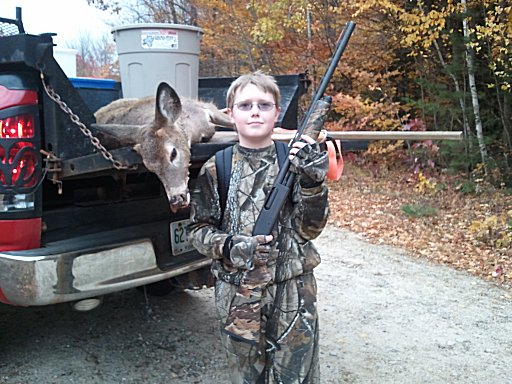 Jake Neirmeyer, 11, of Holden, MA.
Eleven year-old Jake Niermeyer, of Holden, Massachusetts, is an extraordinary youngster who has overcome many serious medical problems in his 11 years. His younger years held many challenges, surgeries, delayed development and dyslexia with ADHD. But, Jake has an IQ of 121, highly superior intelligence. Although having problems in school because of short attention span, Jake proved that he could concentrate when motivated. He was allowed to shoot a BB gun with his dad, Kurt. He practiced for an hour and knocked over a can 8 times out of 10. Fantastic work!

Jake was preparing to go hunting during this year's New Hampshire Youth Deer Hunting Weekend. He knew that he could shoot, but he wasn't sure that he could shoot an animal. His mentor and guide would be Henry Camirand, the husband of Jake's mom's cousin. Arriving at the Camirand's house in Francestown, N.H. at 6:30 p.m., his clothes were washed in a special soap. The next morning at 6:00 a.m., Jake had to shower using as special soap and special shampoo.

By 7:15 a.m. he and Henry were on their way to hunt on a neighbors land in Francestown. He was shown how to track a deer and carry a gun while still trying to keep quiet. Even after being told that the 20 gauge shotgun is much heavier than a BB gun, louder and has lots of kickback, Jake refused to take any practice shots. "No," he said, "I only want to shoot it once." And, once was all it took!

After reaching their pre-selected spot, setting out some scent bags in the tree and getting into a kneeling position, they waited. Within five minutes, they heard rustling and saw a doe approaching. "Don't move. She's looking at us," Henry told Jake. "Don't shoot until you see her shoulders." Bang! Jake fired and fell straight on his bottom. "I think you missed, Jake" said Henry. "I don't think so…I better have not," Jake replied. Well, Jake was right. They called home to say that in less than half an hour, Jake had shot his first deer, a small doe. Then, they had to call home again, just minutes later, to correct their error. It wasn't a doe, but a buck, a button buck. The buck weighed 63 ½ pounds.

Young Jake dragged the buck out of the woods to a neighbors driveway where a good friend of Henry's met them with a truck. That October 24th is a day that many will remember forever. This youngster did in 30 minutes what most men spend a lifetime trying to accomplish. In that half hour, Jake found that some things come easy and now everyone wants to be his friend.

The Youth Deer Weekend gives young people statewide the opportunity to go deer hunting with an adult mentor. Accompanying adults must be licensed hunters and are not allowed to carry a firearm, so that they can devote all of their time and attention to coaching their young companions. New Hampshire has offered a special youth deer hunt since 1999.

May Jake continue his new interest in hunting and find more success as he grows older.



Bob Harris can be reached via e-mail at: outwriter2@aol.com
Past Columns by Bob Harris >>>

About Bob Harris >>>
---
DISCLAIMER: The opinions expressed by Mr. Harris are not necessarily those of the Goffstown Residents Association or its members
---
Copyright©2009 Goffstown Residents Association. All Rights Reserved.