Is Pheasant Season Going To Be A Washout?


I couldn't believe my eyes. Here it was October 1, the opening day of the pheasant season and it was pouring. Well, that sure killed opening day for a lot of hunters, including myself. And the rain continued for an additional two days. Those birds must have gotten so soaked that they couldn't fly if they tried.

Again this season, the New Hampshire Fish and Game Department will be stocking a total of 13,500 pheasant out statewide into 75 stocking sites in 48 townships. Because of increased costs of the birds and other expenses, our pheasant license fees this year went up from $16.00 to $26.00. The birds will be distributed over three full stockings at all sites, generally on Thursdays and Fridays in order to maximize weekend hunting opportunities. Selected larger sites will receive an additional stocking during the first and last weeks of October.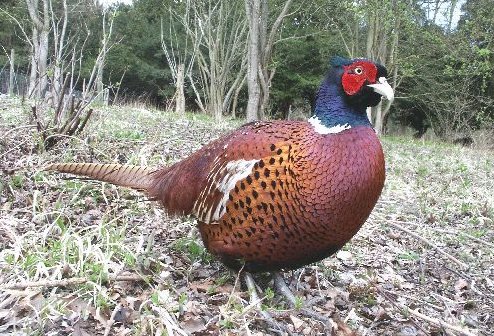 Karen Bordeau, Fish and Game's Pheasant Project Leader, stated that "Most of the pheasant releases are on private lands, stocked with landowner permission and available to sportsmen and women only because of their cooperation. Please respect the property of these landowners, who make our pheasant hunting tradition possible, by following all safety guidelines and by hunting courteously. Take time to thank landowners for their generosity." I may add one other thing to Karen's statement and that is, be sure to take out with you any bottles, sandwich wraps, coffee cups or other stuff you carried in or bthat you find while there. Take them home and dispose of them in your trash barrel.

There is a list of towns (including road names) available, that are being stocked with pheasants. This can be viewed on the internet by going to: www.huntnh.com/Hunting/Hunt_species/hunt_pheasant.htm. Printed lists are also available at Fish and Game headquarters and regional offices. Be sure to note that the former pheasant release site in Seabrook is closed this year because of a construction project , but is expected to be open next year. Also, the boat ramp release site on Route 12A in Claremont will not be a stocking site for the 2010 season.

Some hunters were shocked to see that the pheasant license fee increased ten dollars this year, from $16 to $26. The increase was needed because in 2009, pheasant license revenues did not cover the full cost of the stocked birds. At a public hearing, pheasant hunters who attended strongly supported the option of increasing the fee rather than reducing the number of pheasants stocked. The increased fee is expected to sustain the pheasant program at its current level well into the future.

No doubt many of our readers have read the article in the October 3, Sunday Union Leader, on page A5, about Mark Vachon, who was pheasant hunting with a friend in Old Hill Village and was shot on the second day of the pheasant season. According to Fish and Game Conservation Officer Jim Kneeland, another group of hunters flushed a pheasant and took a shot, which hit Mark Vachon. "The distance they were apart was only ninety-nine feet, so they were relatively close." Vachon was taken to the Franklin Regional Hospital where they removed shotgun pellets. Mr. Vachon was wearing Blaze Orange. There is no doubt in my mind that the shooter should have seen him and failed to follow many of the safety protocols when he swung on the bird and pulled the trigger.

Pheasant hunters need to follow the basic safety guidelines to the fullest. They are:
1. Wear Hunter Orange on your head, back and chest.
2. Control your firearm muzzle at all times.
3. Always wear safety glasses to protect your eyes.
4. Always know where your hunting partner or other hunters are at all times.
5. Shoot only within your safe zone of fire.
6. Be sure of your target and what is beyond.
7. If you have one, always keep your hunting dog under strict control.
Hopefully we will have less rain and more good days to enjoy the pheasant season during October and November, even though the season doesn't close until December 31. Good luck to all and remember to hunt safely.



Bob Harris can be reached via e-mail at: outwriter2@aol.com
Past Columns by Bob Harris >>>

About Bob Harris >>>
---
DISCLAIMER: The opinions expressed by Mr. Harris are not necessarily those of the Goffstown Residents Association or its members
---
Copyright©2009 Goffstown Residents Association. All Rights Reserved.