Where to see moose in New Hampshire




Indeed, moose are an awesome animal to observe and the sight of them, especially close up, is breath-taking. Yes, I have seen moose on rare occasions in Goffstown, Merrimack, New Boston and Mont Vernon. However, my greatest experiences with observing them have been in the northern areas of New Hampshire. To say the least, our moose are surely a tourist attraction to the state. Moose are definitely fun to see and even photograph. People often ask where they can go to have the best chances of seeing moose. New Hampshire Fish and Game Department's Moose Project Leader, Kristine Rines, offers some excellent advice on the subject.

"From your vehicle, routes in New Hampshire where moose are often seen, especially from May through October, include: Route 3 north of Pittsburg to the Canadian border, Route 16 north of Milan to the Maine border, Route 26 east of Dixville Notch to the Maine border, Route 112 from Lincoln east to the Bear Notch Road and Route 110 north of Berlin to Route 110A."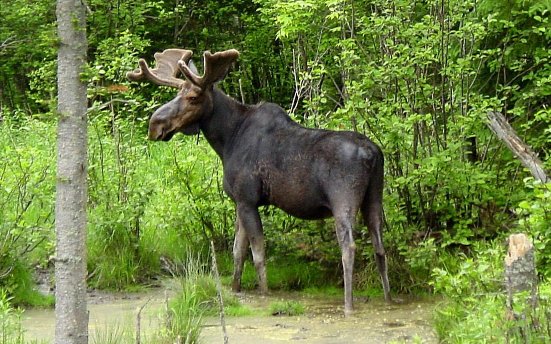 Bull moose in Dixville Notch, NH.
Kristine suggests traveling these roads at dusk, looking for roadside salt licks where moose come out of the woods to feed on road salt that has washed off the roads and accumulated in wet areas. Good areas for moose viewing will often have multiple cars, filled with camera-toting folks, hoping for a moose sighting. However, you need to park well off the road and to always be aware that these roads are heavily traveled and speeds often exceed 55 miles per hour.

Being very large wild animals, Kristine Rines stresses that while watching moose, people should always think 'safety first'. Never approach a moose or allow them to approach you. Stay in your vehicle or well away from them. Keep a good distance from them and always have a good stout tree or you vehicle nearby. Moose are large and potentially dangerous animals that can run as fast as a galloping horse. They do not always show their displeasure or give any warning before attacking. If they do feel threatened or angry, moose will raise the hackles on their neck, lay their ears back, jerk their nose at you, roll the whites of their eyes or just run at you, knock you down and then stomp you until you stop moving. So, be sure to give them a wide berth.

Many years ago, while in Pittsburg, N.H., my wife, Betty, and I had an unusual experience. We were coming down Route 3 from 2nd Connecticut Lake one afternoon when we spotted a mother moose and her three calves on an old logging road that went up from the road we were on. They presented a terrific opportunity for us to get some photos. As we pulled over off the road, the mother moose nugged her three little ones and they slowly began walking back up the old logging road and out of sight.

A very short time after, the mother moose reappeared onto the logging road alone. She was about 200 feet from where our car was parked. I got a couple of snapshots of her and then noticed something wasn't right. Suddenly she broke into a charge! Mama moose came within two feet of hitting our vehicle when she put the brakes on, gave us an unforgiving look, turned around and walked back to where she left her siblings. That was scary!
Other areas to find moose include ponds and clearcuts. Some of New Hampshire's northern ponds are good spots for moose watching. Over the years, I have seen a number of moose while fishing ponds in Pittsburg. The moose feed on aquatics early in the morning and at dusk, so any pond having aquatics may hold moose at these times of year. And, as Kristine Rines says, "The best part is that you can fish or kayak while waiting for a moose or two to show up. Of course, in regions with higher moose densities (northern and western parts of the state), you are more likely to encounter a moose. You can also check out any new clearcut with regrowth from one to four feet tall. Again, early morning or dusk are the best times to see moose. Clearcuts also offer a chance to do some birding while scanning the cut for moose."

Another option for observing and photographing moose is to let experienced moose tour guides find the moose for you. Opportunities for seasonal moose-watching tours in New Hampshire (private enterprises not associated with the N.H. Fish and Game Department) include the
following:
1. Gorham Moose Tours: 3 hour wildlife adventure along the Androscoggin River and 13-Mile Woods from late May to mid-October. Reservations are recommended. They are located at 69 Main Street, Gorham, N.H. 03581. Their phone number is 877-986-6673 or visit their website at: www.gorhamnh.org.

2. Pemi Valley Excursions: They offer scenic tours of the best moose watching areas in the White Mountains. They are located on Main Street, Lincoln N.H. 03251. Phone: 603-745-2744 or visit their website at: www.I93.com/pvsr/moose.htm.

Be alert whenever you are driving, particularly in fog or night time, to avoid moose collisions. Because they stand so tall and have very heavy bodies, they are often hard to see during these conditions. Drive at a slower speed than the speed limit and stay alert. At night or in fog, drive with high beams on whenever possible. With that, enjoy your wildlife watching and watch out for the moose.



Bob Harris can be reached via e-mail at: outwriter2@aol.com
Past Columns by Bob Harris >>>

About Bob Harris >>>
---
DISCLAIMER: The opinions expressed by Mr. Harris are not necessarily those of the Goffstown Residents Association or its members
---
Copyright©2010 Goffstown Residents Association. All Rights Reserved.