The Challenge of Summertime Trout Fishing


Summer can be a great time to enjoy trout fishing, but it can be difficult and challenging as well. Summer means hot temperatures and that, of course, means hotter water temperatures which can be detrimental to cold water trout. Trout prefer cold, clear waters and as water temperatures increase, the trout get tired much more easily than normal and can become less active and harder to catch. Also, as water temperatures increase, so does the likelihood of doing irreconcilable damage to trout that are caught. Do not play any hooked trout for too long. You need to get the fish back in the water as quickly as possible if you plan on releasing them.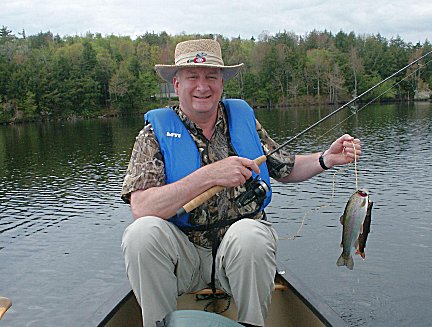 Here are some helpful hints on summertime trout fishing:
Always make sure that you are on the water at the most opportune times. Do this by learning how the weather and moon phases impact fishing conditions. These two forces of Mother Nature have much to do with fish behavior.
Make sure your hands are free of any unnatural odors. Trout have a very sensitive sense of smell and if they detect unnatural odors on your bait or lure, they will tend not to bite. Grab a handful of grass or dirt and rub it onto your hands before baiting up. This will effectively eliminate any unnatural odors that may be present.
Use light line. When trout fishing, you should always use fishing line that is as light as possible. Trout have very keen eyesight and can detect your line if it is too heavy. Recommended line is 4 pound test Fluorocarbon line. It is virtually invisible and yet much stronger than normal monofilament line. If need be, you can also use 2 lb. test Fluorocarbon line.
If fishing from a boat or canoe, use a depth-finder (also known as a fish-finder). This can help locate trout and the depths they are at.
Trolling will give you a far greater advantage for catching summer trout than fishing from shore. Water temperatures are much warmer near shore and summertime trout will usually avoid being close into shore areas. If you are planning to keep a few for a meal, clean the trout immediately and place in a cooler or lunch pack with ice to keep cool until you get home.

My favorite method of summer trout fishing is trolling flies. Remember that they will be deeper in the water now where the temperature will be somewhat cooler. I use a full-fast sink fly line with 18 inches of 4 lb. test Fluorocarbon leader attached. I troll #10 streamer flies as well as wet flies and nymph patterns. Every now and then while trolling, give your rod a little jerk to make your fly more enticing. So, now that the heat is here, grab your rod and try some summertime trout fishing. Tight lines!



Bob Harris can be reached via e-mail at: outwriter2@aol.com
Past Columns by Bob Harris >>>

About Bob Harris >>>
---
DISCLAIMER: The opinions expressed by Mr. Harris are not necessarily those of the Goffstown Residents Association or its members
---
Copyrightę2010 Goffstown Residents Association. All Rights Reserved.