New Hampshire Free Fishing Day Fast Approaching


Here is a great opportunity for seasoned anglers to introduce friends, relatives and kids to the pleasures of fishing. New Hampshire's Free Fishing Day is Saturday, June 5 this year. Both state residents and nonresidents can fish any inland waters in New Hampshire on this day without a fishing license, whether it be lake, pond or river. However, season dates, creel limits and all other fishing rules and regulations must be followed.

There is a wide variety of fish that can be pursued here in the Granite State. Large and smallmouth bass, pickerel, white and yellow perch, various species of sunfish, black crappie, landlocked salmon, lake trout, rainbow, brown, brook and tiger trout to name a few. Each species has its own exciting challenge for the angler, especially the non-anglers just learning about fishing for the first time.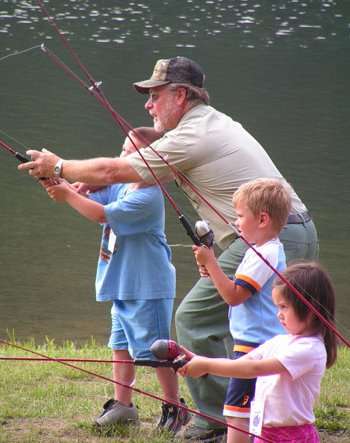 If you're an experienced angler, this is a great time to mentor somebody new to the sport of fishing, children in particular. Youngsters who are attracted to fishing will become the future protectors of our sport so that future generations will be able to enjoy fishing as we do today. When dealing with children however, there is one important factor to be careful of - don't over fish them. You need to keep in mind that young children have time span limitations. In other words, they may enjoy fishing for a little while but may eventually become bored or tired. If this occurs, don't drag the fishing day out. Call it quits for the day.

I'm a fish-aholic and when my son was just a youngster, I enjoyed taking him fishing. However, I made a big mistake. I'd fish for hours on end. Although my son had a great time fishing and caught some nice fish, he reached a point in time that he wanted to do something else or return home. But, I didn't stop fishing. Because of my continuations, Chris's enjoyment for fishing reached its limit and he wouldn't go fishing with me or anyone any more. My stupidity. I should have quit fishing when he wanted to quit.

I recall my first experience at trolling, as a young kid, turned me off this method of fishing for many years. I think I was seven or eight when my uncle took me salmon fishing on Lake Winnipesaukee. It was early May. We trolled the lake for about nine hours without either of us getting a bite. I swore I would never go trolling again, and I didn't until I was about 20 years old. It was thanks to a native American, in Maine, who took me trolling and showed me how it was properly done and we had great success that I finally began trolling successfully on my own.

Also of importance if taking a non-experienced person or kid out fishing is to target fish that are easier to catch and will provide good action. These fish would include species such as bluegills, sunfish, white perch and yellow perch and black crappie. A boring day of not having good fishing action is very often a turn-off to a newcomer to the sport. So, be sure to go somewhere you'll have fun and don't overstay your trip. There's an old theatrical saying - "Leave them wanting more." It works for fishing, too. Call it a day before the thrill is gone. At any rate, gear up and enjoy the free fishing day on Saturday, June 5. Tight lines.



Bob Harris can be reached via e-mail at: outwriter2@aol.com
Past Columns by Bob Harris >>>

About Bob Harris >>>
---
DISCLAIMER: The opinions expressed by Mr. Harris are not necessarily those of the Goffstown Residents Association or its members
---
Copyright©2010 Goffstown Residents Association. All Rights Reserved.