Dedicated to Restoring & Maintaining Integrity in Goffstown Government
January 17, 2007
Grasmere roundabout completion to cost an additional $98,000
Final price tag will exceed $200,000

GOFFSTOWN - At last Monday's meeting of the board of selectmen, DPW director Carl Quiram explained springtime plans to complete the Grasmere roundabout project after selectman John Caprio raised questions about some of the upcoming additional costs.

Based on a December 19th costing sheet Quiram provided to selectmen, the project has cost $106,131.44 to date. That figure does not include the preliminary drainage work that was done, nor does it include work on the upper portion of Henry Bridge Road, as both of these were to have been done whether the roundabout had been built or not.

During the meeting, Quiram explained the need for an additional $98,087.51 to add granite curbing, install cobblestone to the roundabout's center area, and apply a final layer of asphalt, bringing the total cost of the project to $204,218.95.

A breakdown of Quiram's cost sheet can be seen below: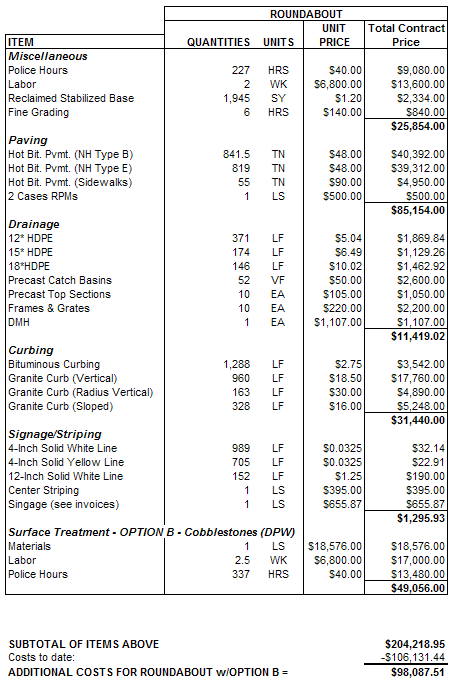 ---
Copyrightę 2007, Goffstown Residents Association. All Rights Reserved.